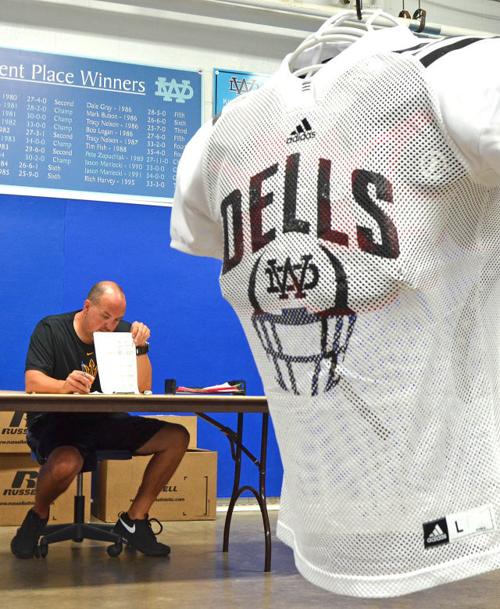 When DeForest head football coach Mike Minick announced he was going to step down following the completion of the 2019 football season, Wisconsin Dells athletic director Aaron Mack couldn't help but wonder if this would be the perfect opportunity for him to return to coaching.
Mack is going to get that opportunity, as on Tuesday, DeForest athletic director Mike McHugh announced that Mack has been hired to become the school's next head coach.
Mack, who has worked in the Wisconsin Dells school district as its athletic director since 2012, and also as head football coach from 2012 to 2014, said the opportunity was just too good to pass up.
"I became interested in the position kind of when I heard coach Minick was going to retire, from the standpoint of one our family goals, or desires, has always been to be back in the Madison area," Mack said. "For me and my wife, that's one of the things we aspired to do. We love it here, but that has been one of our things, and there's only been a couple communities that we both talked about that we would even consider pursuing. There's like three communities, and DeForest was one of them."
Minick's 20th and final season in DeForest ended with the Norskies winning the Division 3 state championship with an 8-7 victory over Menasha back in November. Because of last year's state championship and DeForest's long tradition of winning football, Mack knew there would be plenty of quality candidates interested in the job.
"When this opportunity came up, I figured I would be a long shot, because they have a great tradition, a lot of great assistant coaches, and a lot of people would want that job," Mack said. "So when it came, right after the first of the year, the posting came up, so I talked with my boss and just let him know that I was going to be interested in it, and we talked about it.
"It was one of those things where, sometimes you leave jobs because you want to leave. Sometimes you leave jobs because there's a great opportunity, and that's what this was. This was a great opportunity."
Mack also said he wanted to get back into a teaching role, something that he hopes will come with the move to DeForest. Mack, who graduated from Madison East High School, also wanted to get back to coaching football. Before coaching three seasons in Wisconsin Dells, Mack was the head football coach at Iowa-Grant and New Berlin West High School.
Mack started his coaching career as a graduate assistant coach and quality control coach for the University of Wisconsin from 2003-07.
"I still have goals and dreams that I want to pursue," Mack said. "I think kids can learn from that. That doesn't stop no matter how old you get. You have to earn those opportunities and do right by people, but at the same time, you can't be complacent with where you're at, and that was one of the things that made me want to go for it."
Mack, who will continue in his role of Wisconsin Dells athletic director through the end of June, said he is proud of what the school's athletic department has accomplished during his time there. Since his arrival in the fall of 2012, Wisconsin Dells has won six South Central Conference titles in volleyball and had its girls cross country program qualify as a team for the Division 2 state meet five times. With Mack in Wisconsin Dells, the Chiefs have also won five conference titles in girls basketball, four league titles in boys basketball and baseball, and three SCC titles in wrestling.
And while the school's athletes and coaches have played large part in that athletic success, Mack is proud to have been a part of it. He's also proud of how he's improved during his time in Wisconsin Dells.
"This job has definitely made me a better person, it's made me a better coach, it's made me a better AD, and what I mean is, there was adversities, there were successes, there was failures, but I think over time, we had a really good 8-9 year run in our athletic department," Mack said. "Our programs are in a better place, and a healthy place with a lot of success, and we did it all together.
"I really think we worked well with all of our head coaches and all of our athletes, and that is really what I'm proud of. And I think people are proud of our athletics in Wisconsin Dells right now."
Get in the game with our Prep Sports Newsletter
Sent weekly directly to your inbox!